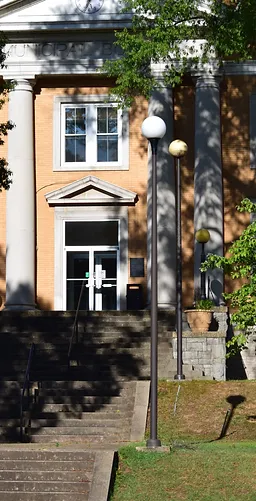 Sheffield – A Great Place To Live
​
Sheffield, Alabama, known as the "Center of the Shoals," is centrally located between the cities of Florence, Muscle Shoals, and Tuscumbia in the northwest region of Alabama. The city, with a population of around 9,000, possesses a small town friendliness with the amenities of a larger metropolitan area, including a local university, hospitals, shopping, and entertainment.  Situated on the banks and bluffs of the Tennessee River, the beauty of our natural resources is second to none.  The community leaders and citizens of Sheffield treasure their hospitable, family-oriented, small town lifestyle.
​In 1815, General Andrew Jackson and his troops following the Military Road crossed the Tennessee River at what is now known as Sheffield. The exact crossing site is still called Jackson Hollow today. Two years later, in 1817, General Jackson and his troops returned to this area and camped on the bluff above the river. Around the campfire, Jackson and his fellow officers decided that no other site was so promising for a township as the one where they were camping. A few months later, Jackson officially recommended the site where the Military Road crossed for the establishment of a town. The United States Secretary of War laid out a town precisely at that point and called it York Bluff. At the United States Land Sales in 1818, Jackson himself purchased quite a bit of land. By 1885, the area was incorporated as Sheffield, Alabama.
​Sheffield features three historic districts with unique stucco and terracotta bungalows  and Victorian-era buildings. Our rich music heritage goes back to the 1950's when new fad Rock n' Roll music began to sweep the nation and the roots of Jazz were being established as an American tradition. Many top songwriters and performers cut vinyl hit records at Muscle Shoals Sound Studio, Quinvy Studio and several others. Muscle Shoals Sound Studio was pictured on the cover of Cher's 3614 Jackson Highway album.  Shoals native Percy Sledge recorded the iconic "When A Man Loves A Woman" at Quinvy Studio on 2nd Street in Downtown Sheffield.

Sheffield is a welcoming City of friendly generous people.  We want everyone to feel safe and comfortable in our City.  We're focused on progress and providing opportunities for all of our citizens to thrive.​

Our city is covered with historic landmarks and places that are sure to peak your interest.  Take some time to wander the streets and drive the roads to try and find all of them.